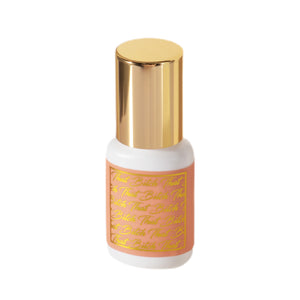 The Lash Plug London
THAT BITCH ADHESIVE
Keeps russian fans open
Viscosity- Thick
Drying Time - 0.5 seconds
Ideal Humidity - 50 to 60 %
Ideal Temperature - 15 to 20 degrees
Shelf Life (Unopened) - 3 Months
Shelf Life (Opened) - 1 Month
Ingredients
Ethyl Cyanoacrylate, PMMA, Carbon Black
 You are not required to patch test lash extension clients with any of The Lash Plug Londons' glue range. 
Storage : Keep stored in an air tight container at room temperature or out of an air tight container standing up right in the refrigerator door at 3 degrees. Take the glue out of the refrigerator 1-2 hours before using it. Use the pin supplied whenever you are shaking the glue.
 
For professional use only 
Also remember to wipe the nozzle with our adhesive wipes before putting the lid back on. 

Clean glue bottles stay happy glue bottles 

EXPIRES JUNE 15TH 2023
The bitch adhesive
Absolutely love this glue fast drying which helps you work faster so your not waiting for the glue to dry
MY CLIENTS COME BACK FOR INFILLS 3-4 WEEKS LATER!
Best and only adhesive I use. No other glue tops this one fi trueee. I highly recommend it. Dries quick - no stickies, easy removal (banana split method or gel remover). Advice: make sure it's in room temperature & use new drips of glue every 15-20 minutes, and use the Sealant too provided by The Lash Plug London 🙌🏾✨
Great Adhesive
Love this glue! My all time fave glue on the market right now
That bitch glue
Love this glue , dries super quick and easy to work with and no stickies either defo sticking with it xx
THAT BITCHHH
Best glue I ever have/ever will come across, it legit is what it say. No stickies, no brush offs it's an absolute dream to work with. Majority of my clients come every 6-8 weeks cos infills are a thing of the past with this glue 🥺